Many people search for SMS Bomber Apk on the Internet. But, most of the time they do not get their desired result over there. This is because most sites are not updating their APK and shared a very old version while some of the download links got dead. So, we have decided to share working Text Bomber App for Android OS. 🙂 It is personally tested and used by us and then we are sharing it with you. So, it is our guarantee that it will work like a charm without any issue on your smartphone. It is your time to prank your friends by sending non stop messages on their phone number.
Text Bomber is very useful when you want to irritate your friends or someone else. Today we are going to share this application with you. Using this application you can send lots of SMS to any mobile number. There are lots of SMS Bombing sites and applications are available on the internet, but we will share the best one among them all. Even if you have already used many applications, our one will be the Latest Bomber Apk. It is a simple application at the same time very useful and powerful. So, it's time to Download Latest SMS Bomber App for Android. You can easily bomb someone's SMS box by sending tons of Spam messages on their mobile number. UK sms bomber apk which is named on behalf of its developer name "Udit Karode Bomber Apk".
This SMS Bomber App easily bomb entered mobile number with a bulk of Sms. The best part of all is that it's totally safe and you will remain anonymous. No personal data is collected by this application. You can download this Text Bomb Apk for Android on your phone free of cost. The latest version of SMS Bomber Online is provided in this post. You can download it directly from the link shared below. There are many other apps are available on the internet but you will be going to Download SMS Bomber Apk Latest 2019. You may also like, Ludo Star Mod Apk.
SMS Bomber Apk Latest Version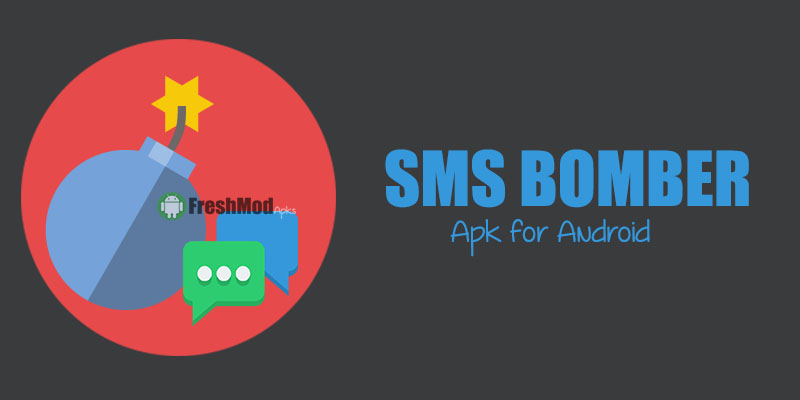 Through SMS Bomb Apk Latest Version, Now you can easily prank your friends by bombing their mobile numbers. This application delivers lots of Sms to victims mobile number. The same type of Sms is sent back to back, creating even difficult for the user to use his phone. Please use this application for fun purpose only. Prank your friends, irritate them and enjoy watching their reaction. We don't want you to use this application for taking revenge or some other bad activities like this. This app is developed only for fun purpose, So if you misuse it serious action may be taken against you. Well, you are thankful to us that we are providing you best ever 100% working sms bomber download link.
Version Info
| | |
| --- | --- |
| App Name |  SMS Bomber |
|  Last Updated On |  07 December 2018 |
|  Android Version Requires |  2.2 and higher |
|  Size |  2.34MB |
|  Total Downloads |  100,000+ |
|  Developer |  Udit Karode |
SMS Bomber Apk Download for Android (Latest)
Finally, your wait is over. Now, we are providing you with the world's best SMS Bombing App for Android i.e "udit karode sms bomber apk". There is no need to search for this anywhere else as below, we have shared a working download button. Through it, you can download SMS Bomb App with a single click.
Voila! Now, you have Latest BombitUp Android. You can irritate your friends by sending unlimited messages on their phone number :-p Even I did so much fun using this bomber. It's your time, go and make some fun. Remember to read this whole article as we have shared its working guide. There you will learn how to start and stop the bombing. 🙂
Android is an open source and more and more developers are contributing to it day by day. That's why such type of unique and awesome application are being developed nowadays for android. Without wasting much time download and install it on your phone. What all you have to do after installing this application is that enter victim's mobile number and click on the start button. This will send unlimited Sms until you click on the stop button. You can simply ruin someone's day with this app just for fun.
Also Check: GBWhatsApp & Game Killer!
SMS Bomber Android (Features)
---
This application is really very simple to use. Anyone can download it and install on their phone and that too free of cost. If you have used any SMS Bomber App for Android earlier then you know how much fun we have when we bomb our friends mobile with lots of Sms and he is confused all the way. If not then don't worry you can download sms bomber latest apk from a link provided below.
Popup Ads Free – This android application is ads free which is a very big thing. Most of the application like this which are useful contains popup ads in them. This application contains only one banner ad to support the developer and it is simple and perfectly placed.
No Charges – As already mentioned above developer is using advertisements to generate revenue from the application. The application is available for free of cost on our website and no other additional charges are there.
Internet Friendly – This application is specially designed in such a way that it uses the least amount of data. It even works perfect in slow Internet connections, means even in 2G Internet Connection so don't worry about data consumption.
Safe & Secured – This is one of the most important factors we need to concert on before using any application like this. This UK Sms Bomber Apk is totally secure as well as your identity will remain anonymous. Still, I will advise you never use this application for illegal purposes.
Additional Features – So far now you may have used many services like this which can bomb victims phone number with bulks of Sms but there is something special in this application. It even provides you option for unlimited bomber and call bomber. Call Bomber service is only found in this application. Now using this apk you can even bomb Sms and Miscalls to phone numbers even from other countries.
Isn't it amazing? Can you even believe in getting any application free of cost which provides such type of amazing services? The developer has finally added call bomber option in the application. Call bomber is many times better than Sms Bomber and I am sure everyone will agree with this fact. These are the default features which are added in starting in sms bomber app. After new updates, many new features are added to this application. So, have a look at some features.
Also Check: FMWhatsApp & YoWhatsApp!
What's New?
---
With every update, it is getting more stronger are powerful. Developers are trying their best to give you new and exciting features in every new update. The best part of this application is that you get the option to update it directly through the app. This will save your time and you don't have to do efforts for finding the new version on the Google as you can update it directly through the app.
Earlier this application works only on Indian Mobile Numbers but now it is available for International Mobile Numbers too.
You can now send unlimited SMS to this app.
International Bomber
Sometimes this application doesn't work and you get stressed but now you can see server status on the main screen that will solve your problem.
If your friends bomb you with this application then there is a solution. Add your number to protected number list and it will not send you Spam Sms after that.
They had removed Custom Text Sender. (Means you can't send your desired text)
If you don't want to spam much or just want to show them demo or trailer than set Sms Number. It will automatically stop after sending that amount of Sms.
Some tweaks added for night bombing.
The feature I loved the most is that you don't have to register to this application for using it. So your identity will remain anonymous.
That's so cool, isn't it? Day by day this Sms Bomber is getting more and more features. This app is coded in such a way that it uses different websites API's to send Otp again and again on the entered mobile number. So, finally, you are familiar with the features of this amazing app. I am sure you have decided to download and install this Text Bomber Apk for Android. But, do you know what are the requirements to use such apps? If you don't know, don't worry as below I am going to share the same. You may also like, Es File Explorer Pro Apk.
Udit Karode Bomber Apk Download (Requirements)
---
Many people are getting confused while downloading SMS Bombing App Android on their phone. Why? Because they are thinking will this Message Bomber App run or not on my phone? So, it's time to solve all of their confusions. Now, I am going to tell you all the requirements to use any Text Bomber App Android. You will be able to bomb any number after you are ready with below-mentioned things.
Andriod Phone (Running on 4.0 and higher version)
SMS Bomber Apk Latest Version (Download Link shared above)
Working Internet Connection
These are the only requirements. There is nothing special in the list but still, we have shared this list just for solving your confusions. Anybody can use Message Bomber App on their smartphone. Now, what are you waiting for? Just install the downloaded Apk on your Android and start bombing your friend's mobile number. :-p But, guys, make sure you are using this SMS Bomber only for fun purpose.
How to Install SMS Bomber Apk for Android?
---
So, you have already checked our Requirements to use Text Bomber Apk. But, do you know how to install and use it? If No then no need to worry. Many new Android users who are not a Techy, get confused in thinking how it works and all. But, we are providing you a step by step guide which will show you each and every installation step. We have also attached Screenshots at some unique steps which will make the step more easier to understand.
First of all, you have to download SMS Bomber Latest Version Apk on your phone. You can download it directly from the link given above.
Remember you have Android V4.1+ in order to run this application on your phone. Before installing the application make sure that you have enabled unknown sources in a security setting.
We have downloaded that file does now go to the downloads folder and search for Sms Bomber Apk. Open it and click on the Install button.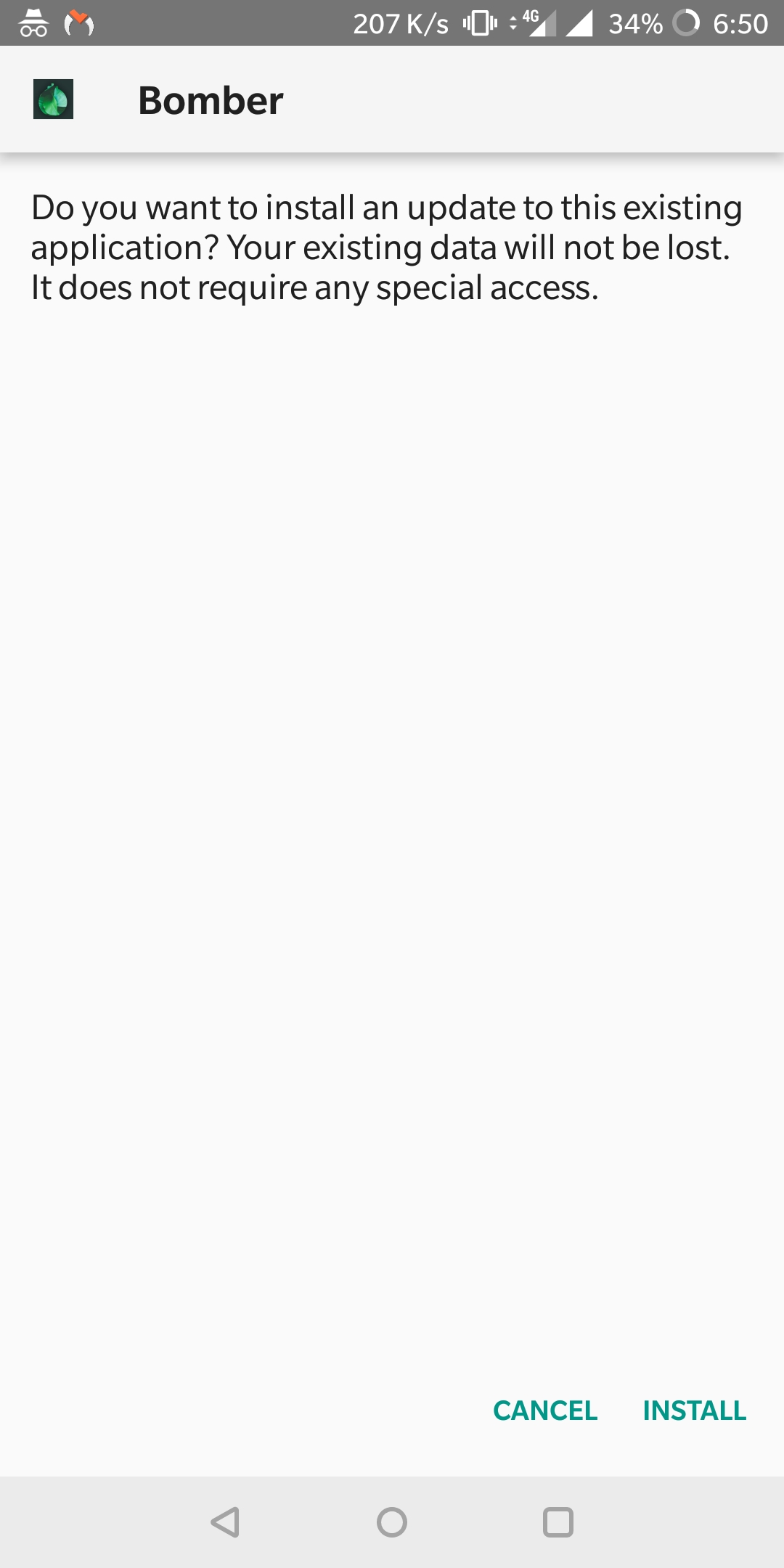 It will ask you to accept a few permissions. If your screen shows a warning message then go to Settings >> Security >> Tap on "Unknown Sources" option.
Now, try again and the installation process begins, wait for a while.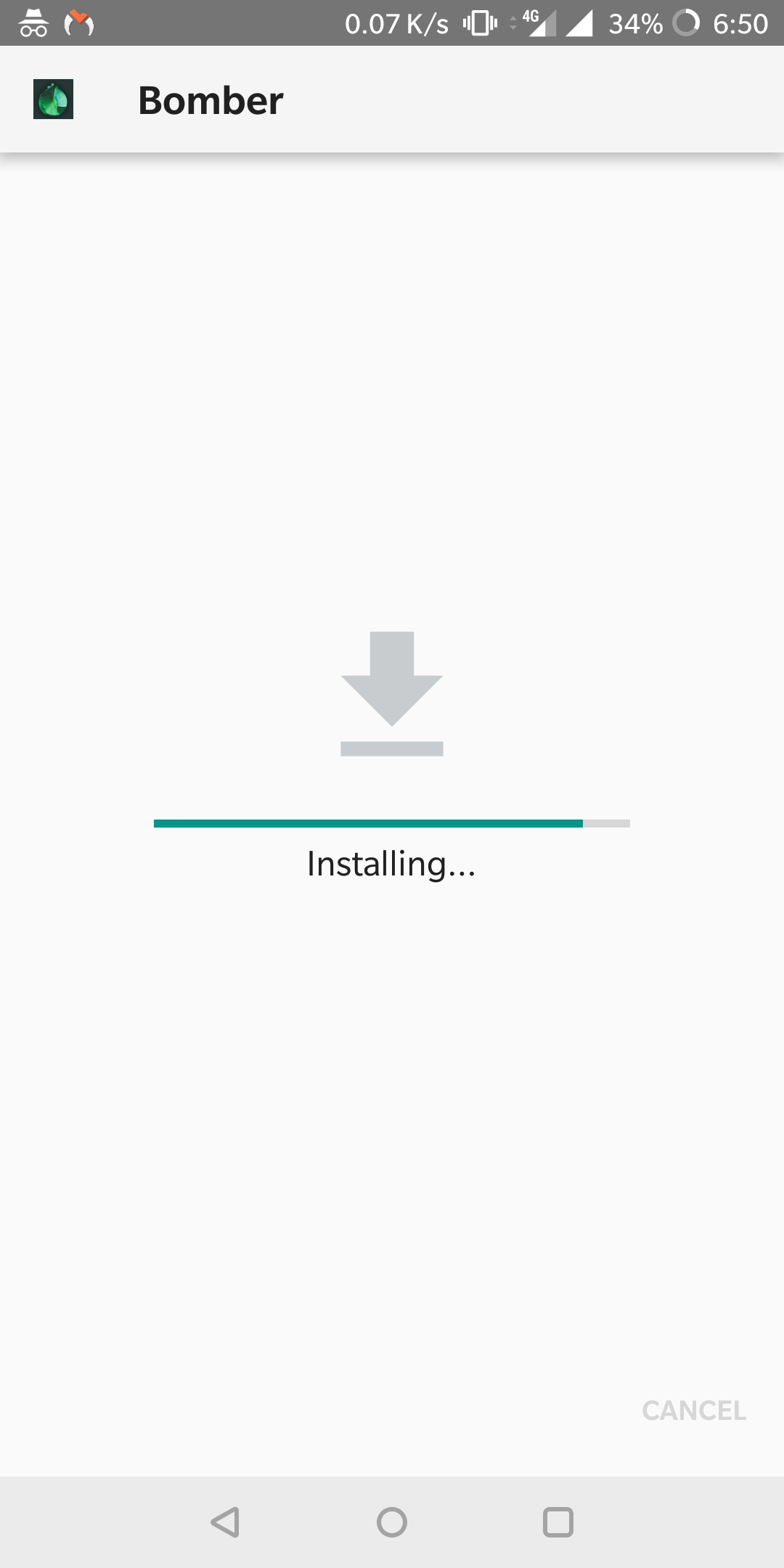 Click on the Open button when it gets successfully installed on your phone.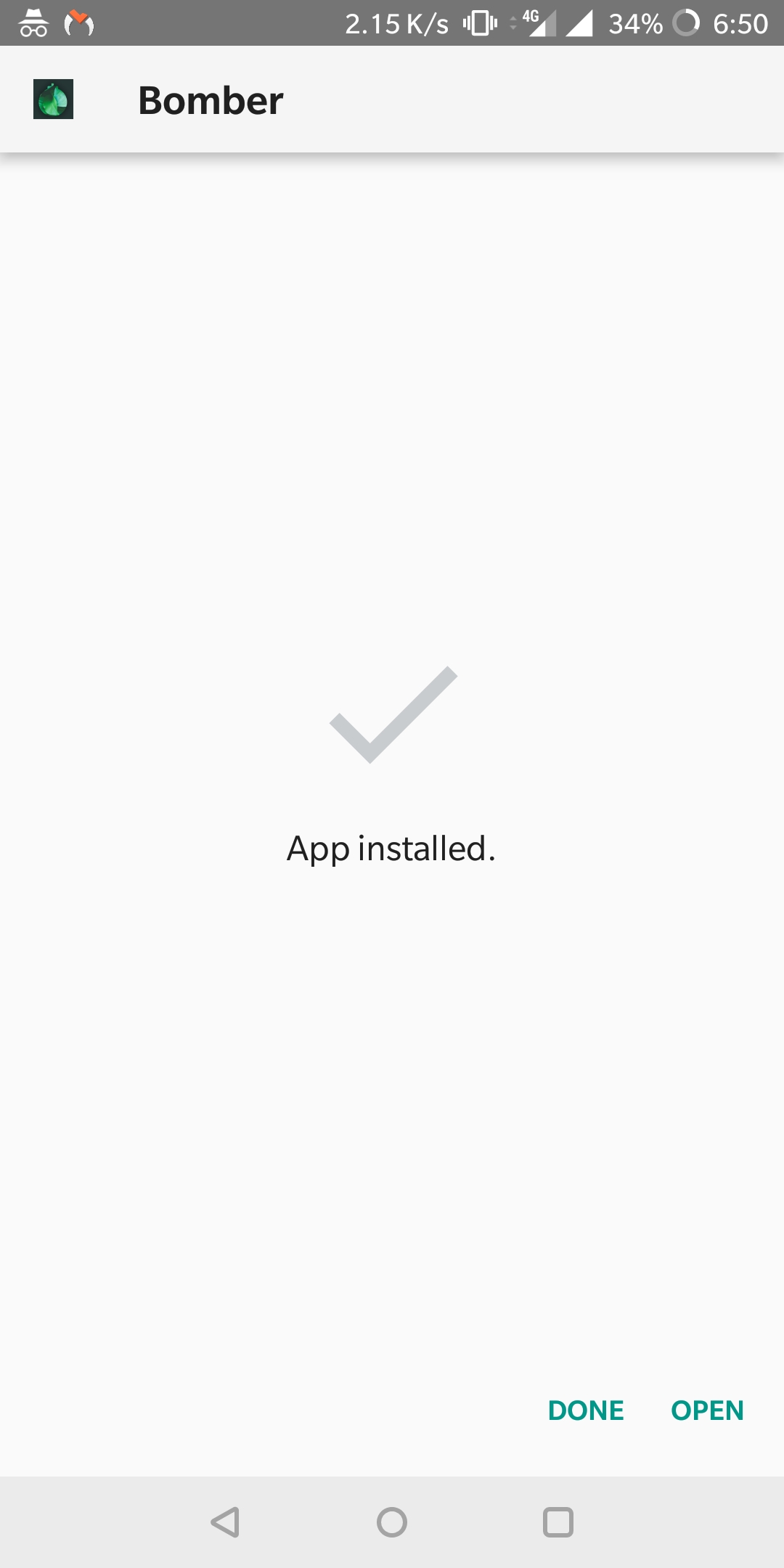 You have successfully installed SMS Bomber Apk on your Android Device. Now enjoy its amazing and cool features, remember this application is made to prank people. Don't misuse it for bad purposes.
That's all you have to do for installing Sms Bomber Application on your android. I hope you really loved our article on this topic. Sms Bomber is also known as Text Bomber and with help of it, you can annoy anyone. Currently, it is only available on the Android platform, if you are an IOS user then you have to wait until it is developed for IOS Platform.
Message Bomber App | Text Bomber App (How to Use?)
---
Maybe you have never used this SMS Bombing App before. So, you have no idea how it works, right? Okay, but no need to worry as I am going to share all the steps below. Well, it is not hard to use Text Bomber App, it's very simple and easy to use. It has various type of bombers including SMS Bomber, Unlimited Bomber, and International Bomber. It's your choice, which one you select. So let me share How to use?
Open the app after installation and choose the Bomber type you want to use. (You can go for Unlimited Bomber for sending bulk SMS)
Now, enter the victim's phone number which you wanna bomb.
At last, click on Sthe tart Process button and it starts sending messages to the entered number.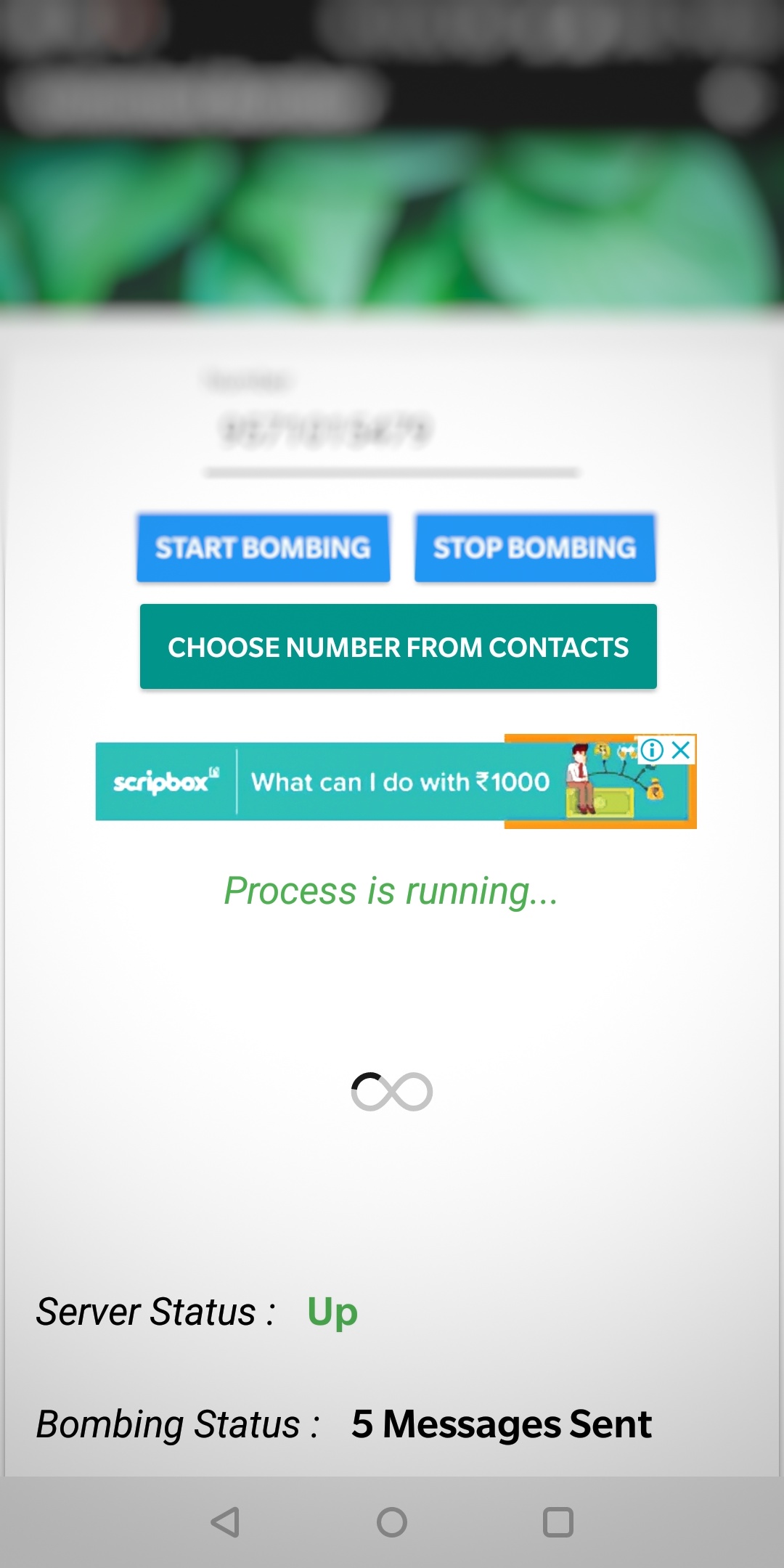 Click on Stop Process button when you wanna stop the bombing.
That's it, this is How to Bomb any Phone Number? Isn't it so easy? There is nothing hard about using this udit karode bomber apk. Still, we have shared all the steps for you. Whenever you want, you can stop Text Bombing using Stop Process button. But, keep in mind that don't use it for any wrong purpose. It meant only for educational purpose. We are not responsible for any harm happened to you by misusing this bomber.
SMS Bomber for iOS?
---
Sorry to say but there is no SMS Bomber for iOS is developed yet. Not only bomber but no mod apps are available for iPhone. This is all because of their high security. Apple's main concern is the Privacy & Security that's why you can't install and modded application in it. Well, you can do some tweaks in it after Jailbreaking. But, it will not worth because you will lose your phone warranty which cost you more than a thousand dollars. So, we suggest you buy an Android phone as well some such kind of uses. If you bought an iPhone then your main motive should be security and Apple is best at it. 😉
How To Protect My Number From Getting Bombed?
---
Are you afraid of getting bomber using this Udit Karode Bomber App? Don't worry, you can protect your own phone number from getting bombed by this bomber application. How? There is an option in the app called "Protect Number", just tap on it and enter your mobile number. That's it, you are safe now. It will not work on your provided number. It has a huge list of protecting number, more than 150 lac numbers are there. 🙂 Now, you can enjoy SMS Bomber App without any risk.
Conclusion
---
So, you have successfully downloaded SMS Bomber Apk for Android. If you are facing any issues in downloading udit karode bomber apk, feel free to comment down below. We will update our download link as soon as possible. This article will make you able to download & install the Number Bomber for Android. This is the BombitUp Apk which is legal to use and you can protect your own number too from getting bombed by it. 😉 Enjoy, this amazing Message Bomber App and don't forget to bookmark our homepage to download more apps like this.